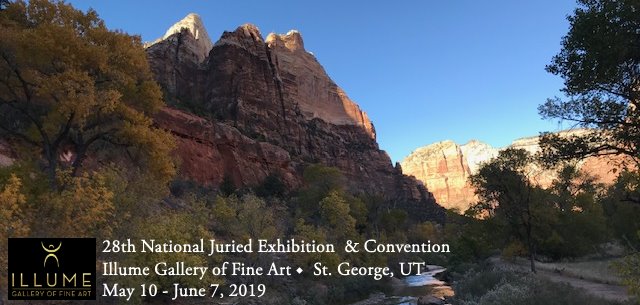 10 Apr

28th National Exhibition & Convention

Oil Painters of America's is pleased to announce that the Twenty-Eighth National Exhibition and Convention will be hosted by Illume Gallery of Fine Art, located in Saint George, Utah, from May 10 through June 7, 2019. Convention activities begin on May 6, with a Wet Paint Competition in both studio and plein air divisions. Cash and merchandise awards for the Wet Paint competition will be a minimum of $10,000. The opening reception for artists, collectors, the public and the press will be held on Friday, May 10, from 6:00 p.m. to 9:00 p.m., with the awards presentation taking place at 7:30 p.m. Many informative and educational seminars are being planned for the convention, preceding the opening of the exhibition.

Located in the southwest corner of Utah, Saint George offers a variety of activities, such as skydiving, zip lining and fishing. Snow Canyon State Park and Zion National Park are nearby for those who enjoy hiking, rock climbing and beautiful scenery. Real dinosaur tracks may be viewed at the Saint George Dinosaur Discovery Site at Johnson Farm and the Rosenbruch Wildlife Museum offers displays of wildlife habitats in Africa, Asia, South America and other continents. Or travel to tour the once prosperous mining town of Silver Reef, less than 20 miles way. All-in-all, there is lots to do in Saint George and the surrounding area.